$100 REWARD
FOR THE LOCATION AND/OR POSSESSOR OF THIS STOLEN ITEM
HANDMADE SAMPLE STOLEN FROM COLUMBUS OHIO WHOLESALE SHOW AUGUST 20TH
12" tall x 6" wide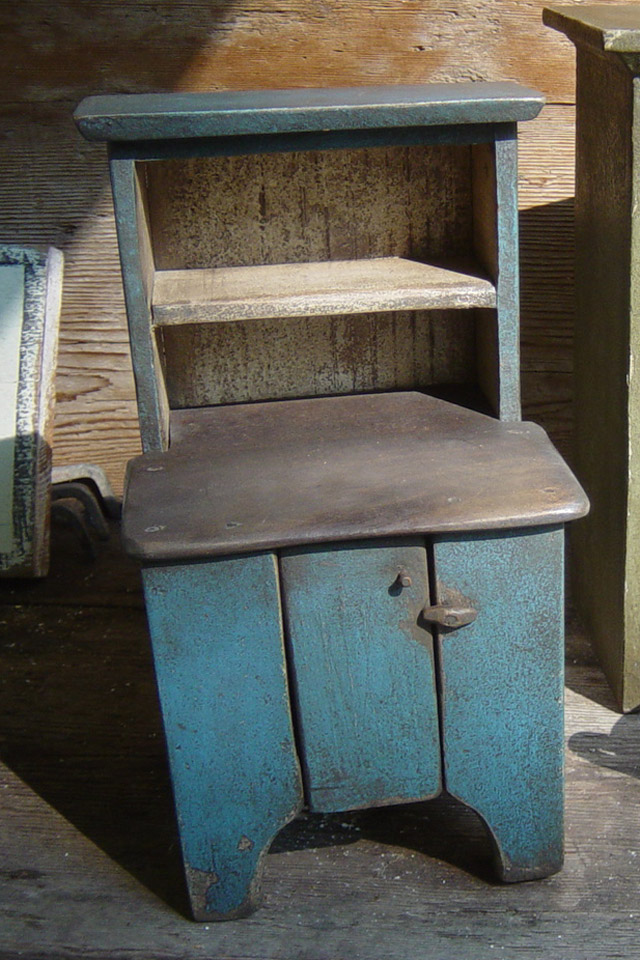 I made this miniature of one of our most popular pieces for my four year old daughter, Campbell, and we thought it looked good enough to start a series of Good Intent Farm "salesman's samples" in 1/6th scale.
On the morning of Saturday, August 20th, while we were exhibiting at the Offinger's Handcrafted Show at the Veteran's Center in Columbus, Ohio, some weasel STOLE this piece from our booth as we were helping the honest folks with their selections. It was clearly tagged "sample, not for sale".
In the eight years we have been going to shows, we have had a genuinely encouraging experience with folks who have shops around the country. The people who choose to carry our work are hardworking business owners who deal with integrity (and lots of overhead expenses) so I am floored and disgusted that we got ripped off, especially in such a great city as Columbus.
I am perhaps too trusting, not expecting this kind of person to come as a registered buyer and steal from folks like us. We are not big corporations with million dollar budgets and the ability to write-off "shrinkage" from criminal shoplifters and the like. We are small shop cabinetmakers and painters choosing to work in our barns, garages and homes to make a sustainable living. (Talk to our wives and you might get a lukewarm response on that sustainable part, but that's another story...)
I am trying to get this picture out there to see if anyone runs across this truly on of a kind piece in a shop. I don't think the loser who stole it would actually try to sell this in their store, but they might be bad enough business people if they have to resort to stealing their inventory rather than paying for it like everyone else is expected to do. If they are stealing to supply their shop imagine what they are doing to their unfortunate customers. These folks might not even have a store, as they may have lied to get into the show in the first place.
IF YOU SEE THIS ITEM IN ANY SHOP CALL
ANDY GRIMES AT 717-420-0317 OR EMAIL AT andy@goodintentfarm.com